Multifunction Printers
Multifunction Printers
Multifunction Printers
A multifunction printer is more commonly known as a photocopier or copier. These printing devices are far more packed with features and functionality than just your standard desktop printer. At Stargel Office Solutions, we combine the features of multiple devices such as scanners, fax machines, and of course printers, and integrate them with additional print solutions. This provides a wide catalog that provides an incredible value for any industry or print volume.
When determining which multifunction printer is perfect for you, we first determine the needs and goals of your business. Here are some examples of the most common features that come standard with our Multifunction Print devices.
These printers feature multifunction properties that allow you to scan, copy, and fax at the same time. Additionally, through online connectivity, you can use multifunction printers to scan documents to a network folder or even email documents directly from the printer. Multifunction printers from Stargel Office Solutions provide state-of-the-art conveniences that are unmatched by today's standard desktop printers.
Many of these multifunction printers are capable of printing at a high volume, in color or monochrome, and several finishing options like automatic stapling, booklet making, and three-hole punch are available, all making the print job that much easier.
Last but not least, these technologically advanced multifunction printers are easily upgradeable, and when the unexpected occurs, their inherent technology makes troubleshooting a breeze. There are many benefits to using multifunction printers that put them apart from standard desktop printers. For most business owners, multifunction printers are a must.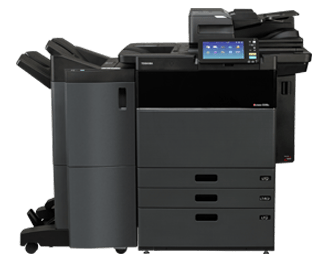 The Initial Cost of Multifunction Printers
Only one multifunction printer or copier is necessary for your business. Companies no longer have to purchase a multitude of desktop printers and fax machines to get the job done. Your business only needs to purchase just one of Stargel Office Solutions' powerful multifunction printers to accomplish a variety of different tasks that are commonly performed in an office environment.
The Speed and Flexibility of Multifunction Printers
Stargel's multifunction printers and copiers operate faster than any laser printer. The multitasking capabilities of the printer provides a far speedier process. No other office printing device can send faxes, print documents, scan images, and copy documents at a steady rate, and all at the same time. Save time and increase productivity with a multifunction printer from Stargel Office Solutions.
Multifunction Printers Save You Office Space
Our multifunction printer saves your office a lot of floor space. Most office printing machines and computer equipment produces clutter and a severe lack of space and comfort. With Stargel's multifunction printer, your office's space allotment benefits immensely.
It is vitally important that your business create high-quality documents whenever necessary. Providing your customers with high quality, full-color materials is crucial to success for modern business. If your documents are not meeting the standard for your industry, you could be missing out ?— regardless if you are creating new marketing materials or your monthly newsletter. Producing professional documents in full, vibrant color is easier than ever with state-of-the-art multifunction printers. Any business can achieve these high-quality results with multifunction printers from Stargel Office Solutions.
These are just a few of the numerous ways that you can optimize your office with a multifunction printer from Stargel Office Solutions. We're proud to provide multifunction print solutions to not only Houston, but to cities and towns such as Hunters Creek Village, League City, Jacinto City, Bellaire, Friendswood, Hedwig Village, Galena Park, Southside Place, Baytown, Aldine, Pasadena, Bunker Hill Village, Pearland, Piney Point Village, Missouri City, Cloverleaf, Channelview, and much more!
Call Stargel Office Solutions at 1-713-461-5382 or contact us by completing our online form to learn more about our multifunction printer solutions.